Peace Vigil
Brunswick Free Speech memorial
16 March 2003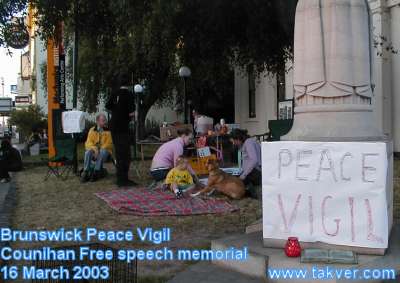 As part of a Global Candlelight Vigil for Peace: Sunday, March 16 -- 7:00 PM, a vigil was organised on short notice (7 hours) at the Free Speech Memorial outside the Mechanics Institute on Sydney Road Brunswick. Another vigil also occurred in Brunswick at Gilpin Park. See above for a photo of the picket setting up at 7.00pm
Although there was never more than 35 people at one time at the vigil, at least 20 others came for shorter periods of time and held candles.
The Free Speech memorial was built to commemorate the free speech fights by workers and the unemployed in the area in the 1930's and particularly a young artist, Noel Counihan, who defied the police by speaking from a locked cage on a cart chained to a balustrade. Noel would have approved of our public witness for peace at the memorial built in his honour.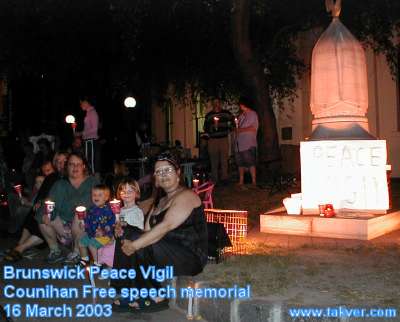 At one stage at least 8 toddlers and their mothers or fathers were present. Several teenagers attended and occasionally burst into song: "All we are saying....is give peace a chance." In fact the vigil had a broad range from the elderly to toddlers in attendence.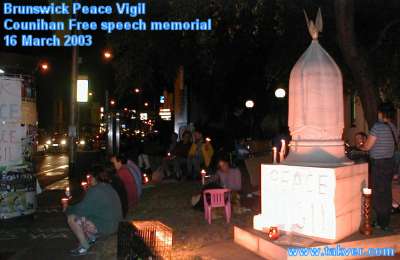 People mainly sat down chatting with each other and waving to motorists and their passengers when they tooted their horns.
A number of placards were made on the spot and decorated the intersection of Glenlyon and Sydney Roads, a busy spot in Brunswick. A large number of cars honked their horns in support. This vindicated setting up a vigil in this spot in which a large number of motorists and tram passengers could identify with our vigil for peace.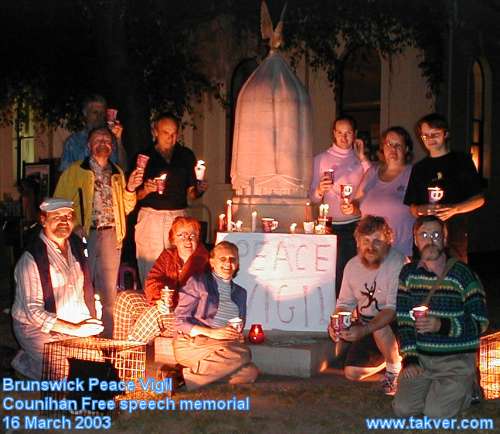 At 9.30pm, just after this photo was taken, the vigil was packed up. Traffic on Sydney road had lessened substantially and we felt we had achieved our witness for peace, and communicated that directly to many fellow residents of Brunswick and Melbourne.

The Callout
Archbishop Desmond Tutu and Rev. Bob Edgar of the National Council of Churches, along with the American Friends Service Committee and many faith-based organizations, have called for a Global Candlelight Vigil for Peace on Sunday, March 16th.
This worldwide vigil is sponsored by Win Without War, a coalition of organizations including MoveOn.org, Sierra Club, NAACP, Peace Action and Women's Action for New Directions.
World opinion has had a tremendous impact in delaying -- and hopefully ultimately preventing -- an unnecessary war with Iraq.
Tough inspections can disarm Saddam Hussein without the loss of a single life. Just two days after the vigil was announced, people in 85 countries have planned over 2500 vigils. This is an unprecedented global event. By the time you read this, many more vigils will have been planned all over the world. You can see these vigils listed, along with the numbers of people registered to attend, at: www.GlobalVigil.org
This week may represent our last chance to win without war. A war with Iraq could kill tens of thousands of Iraqi civilians and inflame the Middle East. According to current plans, it would require an American occupation of the country for years to come. And it could escalate in ways that are horrifying to imagine.
This is a quiet vigil, not a rally. Bring friends, candles (or flashlights/glow sticks) and paper cups to protect fingers from wax and candle flames from wind.
More Information:

Other Relevant Links:
Takver's Soapbox

Contact Takver with information for, questions, or comments about this web site.
© Takver. All Rights reserved except for nonprofit, union or educational use, please credit source.
Print Publications seeking to publish any of these photos should contact Takver to obtain a high resolution version and permission to publish.
This Page is: http://www.takver.com/history/melb/peace2003/peace160303.htm