Moreland Peace Group
Coburg Rally and march
15 March 2003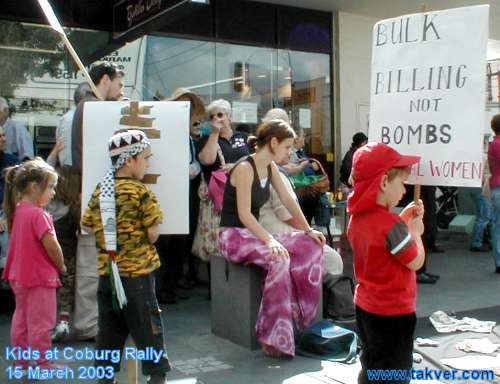 The Moreland Peace Group organised a rally in Victoria St Mall in Coburg
on Saturday. Over 100 people attended this local event held in conjunction
with local actions happening all over the world, as well as Australia. There
were many kids like those pictured at the rally.
Quite a few people took the opportunity to sip cappucinos while listening
to several speakers.
Reta Kaur, from Women for Peace made an impassioned
speech against war and the brutal effect of war on women
and children.
The Muslims for Peace banner marching up Sydney Road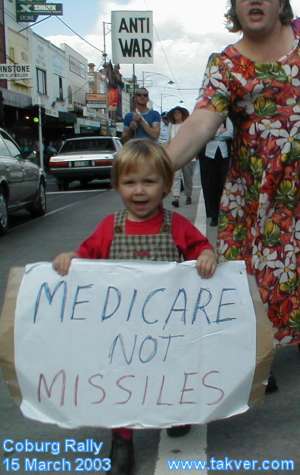 Two and a half year old Tarryn marching for
Medicare not Missiles up Sydney Road.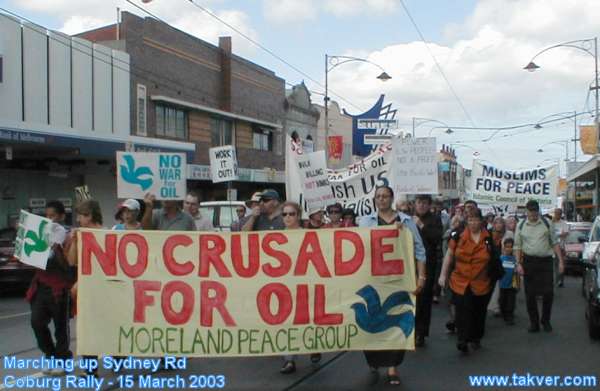 Moreland Peace Group banner leading the march up Sydney Road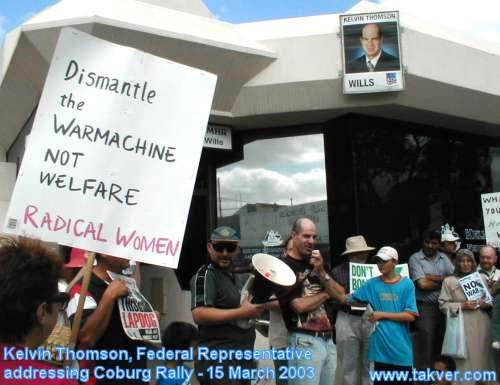 The march continued around the shopping precinct, stopping briefly
outside the offices of local Federal member for Wills, Kelvin Thomson.
As it happenned, Kelvin Thomson was working inside and came out and
addressed the crowd and accompanied them back to the rallying point
in the mall.
Other Relevant Links:
Takver's Soapbox

Contact Takver with information for, questions, or comments about this web site.
© Takver. All Rights reserved except for nonprofit, union or educational use, please credit source.
Print Publications seeking to publish any of these photos should contact Takver to obtain a high resolution version and permission to publish.
This Page is: http://www.takver.com/history/melb/peace2003/peace150303.htm