Anarcon 04
Anarchists and Autonomous activist Conference
Perth - January 2004
The Invasion Day weekend saw anarchist and autonomist activists gathering in Perth for Anarcon 04. Read the conference program and a report of the gathering. Previous conferences were held in Melbourne in 2001, Sydney in 2002, and Brisbane in 2003.
Report of the Gathering
a belated anarcon04 wrap up
by 7temples 2004-02-04 8:41 PM +0800 (Perth Indymedia)

a rambling wrap up of the Australian Anarachist + Autonomous activist conference that took place in perth recently

After i put up my hand at the Brisbane Anarcon, on behalf of perth to host this years conference i started wondering just who the hell is gonna turn up to the thing, who was gonna help get it off the ground. Anarchist in Perth? that?s one of those urban myths isn?t it?

i knew that perth had a broad ranging activist community, with a beautiful diversity of tactics, focuses and flavours, and when i started talking up anarcon to perth folks we realised the importance of broadening the conference to include autonomous activists. it was interesting and heartening to see who jumped on board to help out as the months leading up to Anarcon approached way too fast. At the last meeting we had 15 people turn up, and they ranged from old school anarchists, musos/street artists/, refugee activists, animal rights activists, indymedia crew, people who identified themselves as libertarian socialists. we have even had an iso refugee, and a labor boy turn up to a meeting. many were unsure about calling themselves anarchists, but were still interested enough and wanted to explore anarchism some more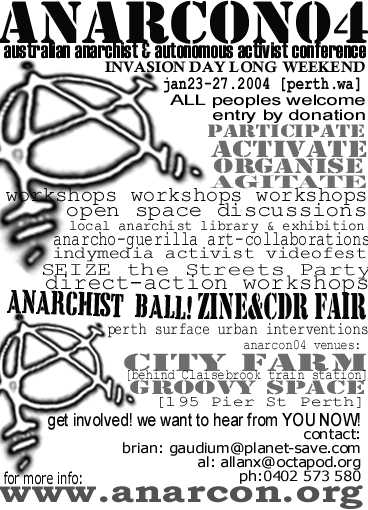 we had heaps of ideas of what we wanted to happen during the conference, seizethestreets, anarchist ball, direct actions, plus heaps of workshops. i personally was a little too focused on giving folks stuff to do, when really what was most important was creating a safe, supportive space for people to come together and share, talk, dream, live etc
with a few weeks to go, we also realised that there wasn?t going to be many east coast folks coming over, due to other events happening around Oz, and because of the lack of $$ to travel with, so we sorta focused on getting perth and wa folks together.
we started the conference on friday afternoon with casual meet and greet, beer, a most awesome radical cheerleading workshop by rad miss lucy(has inspired perth to get a radical cheerleading posse going), a juggling workshop by dan dan the juggling man, and most engaging of films projected up onto an alleyway wall, with sound booming out of a wheelie bin. a mission to an empty show space for some creative outpourings finished off the nite lovely. much fun had, new friends made on the first nite, most excellent!
workshops started late at city farm the next day, with thom and roseanne from city farm talking about the city farm experience, the process of getting the 40year lease, dealing with councils and bureaucracy and a bit about the decisions making processes as a community, then a quick tour of the beautiful gardens. city farm was an excellent space to hold the workshops, nice big open buildings, a lush garden available for people to forage for lunch, and a supportive, nurturing, challenging community and energy conducive to making connections.
after a hastily brought together lunch, a workshop on Grevillea: Case studies in Perth cultural intervention & wa anarchist history took place, followed by the no fly zone kids talking about their anti-deportation campaign. next workshop was queer theory/radical love, which started with a challenging look at gender and sexuality and sparked a wending, weaving discussion on activism and kids, and age bias in activism and in love and life in general, and it all reminded me of just what a radical act making new friends, and forming new relationships can be, and the importance of meeting the spiritual, psychological, intimacy and physical needs of the activist community that i choose to engage with, as well as all the usual solidarity, supporting campaigns, actions etc.
a discussion on Palestine and a guy?s direct action experiences finished off the day. that nite the no fly zone gig was well attended, with heathcliffe managing to rock my world in all sorts of beautiful ways
another late start on sunday morning, with a rambling discussion on asio and activist security that weaved its way into a discussion on anon art and the public liability experience. after lunch workshops split into one on indymedia, and another on ?Whose streets are they anyway? A history of urban space in Australia? and some discussion on seizethestreets. we had planned to hold a seizethestreets on monday, Australia day nite. the were many glorious ideas put forth, including one for a sleep on the streets, can you imagine hammocks and beanbags and beds lining st georges tce, to greet the morning traffic!!! an idea for the future, as in the end there wasn?t the energy on monday nite to go onto the streets, however all the talk did inspire another wheelie bin sound system to be built!
sunday nite was the anarchist ball at the bakery, the home brew flowed nicely down the gullet, much communal goodwill was shown, all the bands rocked my world, special mention to the sound fuckers car crash face, and their special guest john howard and to the random misfit who got up on stage to give johnnie a much needed hump.
monday was slack as, with everyone hungover and tired, but a lively discussion by the power from within crew, a group of young misfit who focus on direct action, street art etc, managed to happen, then after lunch a discussion on the wobblies which i missed cos i was wandering round in a sleepless daze by that stage. the conference was finished off most pleasantly with a zine making session. everyone was chilled or half asleep, and we finished up with a nice little ziney document of the conference out of it.
monday nite was back at groovy space for zine put togethering much more pleasant conversation with an most awesomely nice group of people, then a few of us went on a zombified sticker mission into the city.
and i came out the end of the conference, with this awesome new sense of community, i feel comfortable calling myself an anarchist now. it was good to hear about some anarchist happenings from years back in perth, to be given a sense of history, and it was empowering to be able to share some of my own brief activist history, all helps to build a community this story sharing thing.
the conference brought many wa anarchists out of the woodwork. it was one of the pleasures of the conference to have as many people who i didn?t know turn up; as people who i did know, or had made the acquaintance of through activist circles.
while we didn?t get to do half the actions and workshops we had planned, the conference has inspired renewed energy and activity in the perth community. so look out in the future for a pumping radical cheerleading posse here in perth, a food not bombs crew pumping out good healthy tucker, and the home brew flowing from a brew not bombs crew. and just generally the creation of more spaces for anarcho types to get together, for more community building and living!
so who wants the conference next?
---
Conference Program
anarcon04 - program.v01c
[GS = groovyspace; CF = city farm]
[note - topic titles and descriptions can change - comment at will - please!]


FRIDAY 23RD JAN

OPENING SESSIONS
10-3 final anarcon organising meetings [GS]
4 - 6 stencil/sticker making workshop [ab & mq] GS
5 - 6 radical-cheer-leading workshop! [lucy] GS
6 - 8 juggling workshop/casual anarko-mingle/brew-tastings GS
8 [possible walk/talk to city farm?]
...
9-11 anarcon04 films: GS
VIOLENT BLUE LIGHT GHOSTS by Richard Eames [15min WA]
inc after-film open discussion with the filmmaker
DANIEL by Colin Cozier [9mins TAS] and more...


////////////////////////


SATURDAY 24JAN

[9.30 films and coffee]
[2 minutes of infamy. speed meet n greet]


WORKSHOPS/DISCUSSIONS
10 - 11 building community spaces:CITY FARM/Groovy Space experiences CF
11 - 12Grevillea:Case studies in Perth cultural intervention & wa anarchist history[mar] CF
12 - 1 animal rights and radical veganism [ja; jon] CF
1 -2 lunch action at kfc!
2 -3 NO-FLY ZONE:refugee rights/no borders autonomous tactix[b&g]
2-30 - 3-30 scammin the system [bg&?] CF
3 - 4 monkey wrenching - this is not nvda [mar &?] CF
4 - 5 QUEER radical love/sexuality [lucy] CF
5 - 6 anti-facist workshop - countering tactix bg GS
6 - 7 The Palestine Direct Action Experience - Josh CF


eve: food hunt n gathering - BBQ at groovy space anyone??


9 - 1 recommended anarcon gig: NO-FLY ZONE benefit show at AMPLIFIER[b]
with bands/djs STOP deportations! $7
see flyer here:
http://perth.indymedia.org/storyuploads/2152/flyer1.pdf

////////////////////////

[b]SUNDAY 25JAN

[9.30 films & coffee]
[2 minutes of infamy. speed meet n greet]


WORKSHOPS/DISCUSSIONS
10-11 the new ASIO laws & legal shit: know which laws you break & why CF
11-12 Whose streets are they anyway? A history of urban space in Australia [also planning session for STS][mar] CF
12-1 anon-art explained: autonomous transformative[mq & ab]
1-2 lunchy action
2-3 voluntary participatory media [perth indymedia collective] [ab; pab; bg] GS
3-4 WTF is anarchist in the 21st Century? roundtable - all welcome!GS
4-6 junkadelic workshop/ performance CF
5-6 anarko-feminism [ja ?] CF


eve: food getting mission - maybe things to do with rice and beans


8pm pyro-tex workshop [aj] [@bakery]
9pm - 2am ANARCHIST BALL at BAKERY 223 james st
bands/noise/djs etc $5entry BYO
see flyer here: http://perth.indymedia.org/storyuploads/2152/anarchistball1.gif

////////////////////

MONDAY 26JAN - INVASION DAY

[930am film screening & coffee]
[2 minutes of infamy. speed meet n greet]

WORKSHOPS/DISCUSSIONS
11 - 12 direct action planning -STS etc CF
12 - 1 power from within - activist interventions [b][ray] CF
1 - 2-30 [b]the "wobblies" iww - anarco-perspectives[mp and pc] CF
2 - 4 zine-makin workshops and ZINE FAIR lunch at city farm CF
4 final plennary - debrief the conf... plan the next one? CF


eve: sky-show fun!
STS?

/////////////////////

TUESDAY 27 jan the end!
but more open adventures for all... if u want it!
[meet at groovy space to deconstruct/plan]


comment/post reply below...
and/or ALSO SEE OTHER FORUM TOPIC - ADD A SESSION!

we'd like to see a ROUND-UP of current campaigns...

some other suggestions were:
# anarchy? in 21century? no way?- Q & A about anarchism now.
# anarchist organising? collective process and consensus
# deep ecology & biocentrism - bioregionalism?
# how to stay a sane and healthy activist
# banged up - supporting the prisoner movement.
# 21st century activism - networks without systems.
# why r socialists such bastards? - megaphone/politix etc
# laptops in active intervention
# GM FOOD and Biotech stuff...

---
Sources:
Takver with questions or comments about this web site.

This Page is linked from: http://www.takver.com
© Takver. All Rights reserved except for nonprofit, union or educational use, please credit source.
Last modified: 14 May, 2004