In the last weekend of April an Anarchist and Autonomist conference will take place in Sydney as part of a week of activities leading up to May Day (m1) 2002. It is a joint conference because anarchists and autonomist activists share the view that the state and the market are oppressive structures which must be fought on many levels: in the workplace, in our everyday relationships & on the streets. We seek to organise ourselves in decentralised non-hierarchical ways & against all forms of authority & domination. While we may have different focus at times, we often share many of the same ideas and at times the politics scarcely differ.
It is on this common ground that we wish to build at this conference.
The aims of this conference are:
to rejuvenate the Sydney anarchist and autonomist movements.
to encourage future conferences and events,
to create new & extend existing links between groups and individuals & to network nationally and internationally,
to bring us together to evaluate common ground,
to create a safe space for all,
to be interactive with an emphasis on the open sharing of knowledge & skills,
by providing social activities with the goal of community building,
by placing emphasis on practical outcomes, with the aim of putting ideas developed at the conference into action
Workshop Timetable
Saturday 27th
10-11am
Opening Plenary and recognition
11am-12pm
*Anarchist Organisation
*Sexuality
*Anarcho-Feminism
12-1pm Lunch
1-2pm
*Revolting against war
*Anarcho-syndicalism
*Borders
2.30-3.30pm
*Relavency of workplace organisation
*Punk & Anarchy
*Libertarian Education
4-5pm
*Prisons & punishment
*Beyond private and public spheres
*Federation
Sunday 28th
11am-12pm
*Autonomism
*Offensive struggle against the police
*Pyblic speaking
12-1pm Lunch
1-2pm
*Ultra-left Marxism
*Reflections on Spanish anarchism
*The Goolangullia occupation
2.30-3.30pm
*Staying sane in scene
*Individualism through collectivity
*Pacifism as pathology
4-5pm
*Extreme politics
*Art as subversion
*organising in the welfare sector
5-6pm
Closing Plenary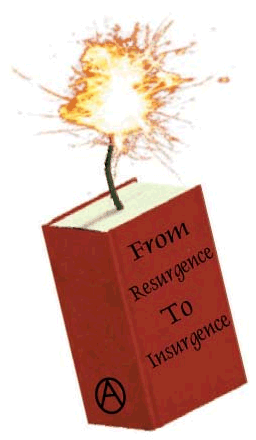 From Resurgence to Insurgence
Sydney Anarchist & Autonomist Conference
27-28 April 2002
When:
Saturday 27th, 10am to 5.00pm
Sunday 28th, 11am to 6pm
Where:
University of Technology, Sydney (UTS), Building 2, Ultimo Campus (Broadway), 2 min from Central station.
Cost:
$5.00 perday or $8.00 for both days
For more info contact us at:
E-mail: anarcon@lists.cat.org.au
or phone 042 5315502
Conference Extras & Events
Extras:
child care available
lunch by Food Not Bombs
Films
Room available for extra workshops and meeting space
Poster and Music Gallery
Events:
Social Evening:
7pm till late Saturday night at the Grand Midnight Star social center. $5 on door - eclectic mix of bands & dj's

Picnic:
Monday midday at Lady Macquarie's chair in the domain, byo to share.

May Day:
Smash the state, fun and games in corporate Sydney, plotting in progress.
---
I guess part of me or part of who I am, a part of what I do is being a warrior - a reluctant warrior, a reluctant struggler but... I do it because I'm committed to life we can't avoid it, we can't run away from it because to do that is to be... cowardice to do that is to be subservient... to devils, subservient to evil and so that the only way to live on this planet with any human dignity at the moment is to struggle.
Assata Shakur