Youth Against war protest for peace in Melbourne
26 March 2003


About 3,000 students, predominantly from High School, rallied and marched against the war on Iraq, shouting slogans and chanting through the streets of Melbourne. The rally was angrier and louder than the previous one on 5th March. The Crowd was estimated at between 2,000 (ABC) and 5,000 (The Age)

Students gather outside the State Library
Wednesday 26th March,
Student strike and rally
Thousands of angry students went on strike on Wednesday the 26th of March for the Youth Against War rally at the State Library.
Aggressive students voiced there opinions and rage over the war on Iraq, holding the Iraqi flag high and proud, students yelled in fury. At the end of the rally some of the students burned the American flag and threw it into the air in anger.
There were speakers at the State Library, including representatives from anti-war organisations, and an Iraqi refugee talking about the pain of being a refugee, her terrible time in Iraq, and now because of the Australian Government, here too.
During the march students held up signs including "Ignorance is strength, war is peace, freedom is slavery" - a quote from George Orwell's classic 1984, "buck fush", and "we learnt not to fight in Kindergarten", chants rang through the city including "Johnnyís a Wanker" and "1,2,3,4 we donít want your racist war, 5,6,7,8 we will not cooperate".
The march finished at Parliament House where there were more speakers, including a representative from AMWU, Steve Roach from CFMEU, a Gulf War veteran who stated proudly that he has returned his war medals, students were also given the opportunity to voice there opinions, lots of student packed up onto the back of the truck to express their feelings about the war crisis.
Kate (15)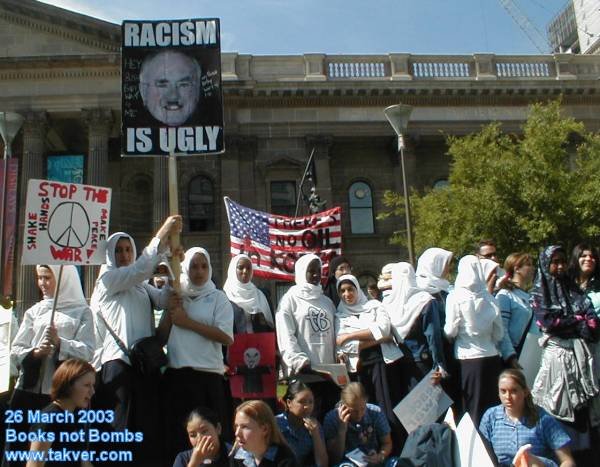 Muslim kids protesting for peace outside the State Library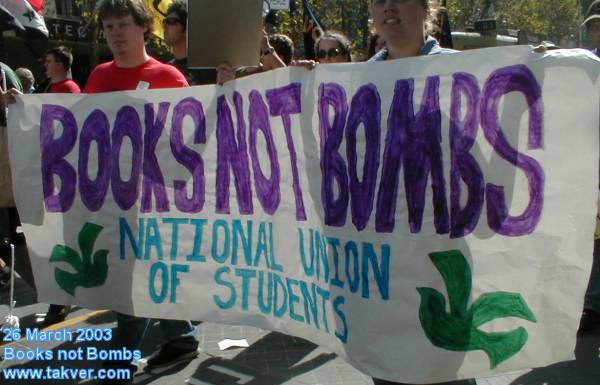 National Union of Students Books not Bombs banner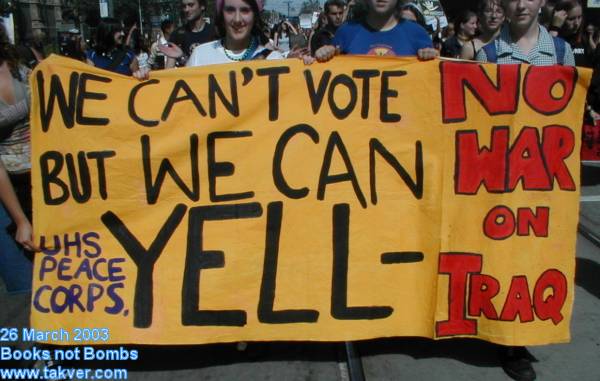 Students from University High with their banner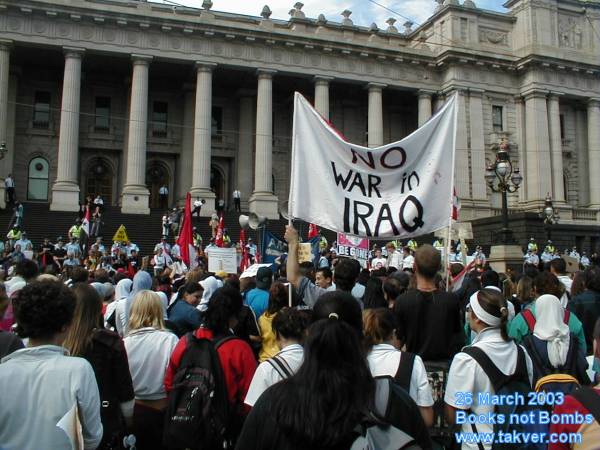 Students in front of Parliament House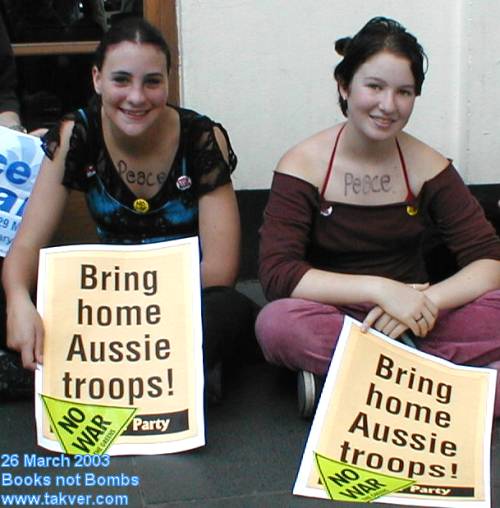 Resting Students

Panorama - students outside Parliament House
Other Relevant Links:
Takver's Soapbox

Contact Takver with information for, questions, or comments about this web site.
© Takver. All Rights reserved except for nonprofit, union or educational use, please credit source.
Print Publications seeking to publish any of these photos should contact Takver to obtain a high resolution version and permission to publish.
This Page is: http://www.takver.com/history/melb/peace2003/peace260303.htm