Kevin Englart 1925 - 2000
06-02-1925 to 31-05-2000 Teacher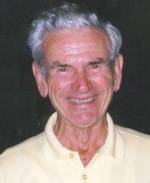 Kevin Englart - a winning moment.

Kevin Edward Englart was a teacher in the NSW Teaching Service from 1955 to 1985. He was also an active member of the NSW Teachers Federation for all of these years. On his retirement from full time teaching in 1985, Kevin joined the Retired Teachers Association. Kevin died at Gosford Hospital on 31st May 2000, aged seventy five years, surrounded by his wife of 51 years, June Englart, and his two sons and their families.

Going through Kevin's papers I found the following few details on how he started his career and his many appointments:
Family Background
Kevin was the third of seven children of Ted and Kate Englart. His father was a wharf labourer, and a prominent Queensland communist, who was Secretary of the Waterside Workers Federation, Brisbane Branch, during the 1940's.
Kevin started work as a message boy after completing primary school. In 1943 he enlisted in the RAAF and saw service in New Guinea, Pacific Islands, and as part of the occupational forces in Japan. He saw the aftermath of the devastation of Hiroshima by the first nuclear bomb used on a civilian population. Kevin was discharged from the RAAF in 1948.
In 1949, while Kevin was a Full-time Trainee - Commonwealth Reconstruction Training Scheme, he married June Bryant. The Training scheme allowed Kevin, with only a primary school education to gain matriculation, and two years of a pure science course at Queensland University. Financial commitments forced him to discontinue his studies at the end of 1951.
During 1950 Kevin was arrested for selling the communist 'Guardian' newspaper in Queen St, Brisbane. He was charged with obstructing traffic by speaking without a permit. His older brother, Vince, was charged with disobeying the direction of a constable in the execution of his duty under the Traffic Act of 1949. These were the first arrests under this act used to limit freedom of speech of independent newspaper street sellers in Queensland. Australian conservative Prime Minister, 'Pig Iron Bob' Menzies was attempting to ban the Communist Party, and the Cold War was at its height. Street sellers of communist newspapers were being harassed by crowds and moved on or arrested by the police.
Blacklisted!
Armed with references Kevin applied to become a teacher in Queensland. The Dept of Labour & National Service Vocational Guidance Report dated 20/12/1951 stated that "For some time he has been interested in teaching and now has expressed a desire to take up this profession. It is considered that he has the ability and the personality to make a success of this calling." H Coppock, OIC, Universities Commission stated in a reference "I think he is conscientious and reliable and would develop into a good teacher."
His application was rejected in a short letter dated 07/01/1952 from the Deputy Director of Education : "With reference to your personal application for entry to the teaching profession, I have to inform you that you cannot be encouraged to hope for an appointment in this department."
It is likely this rejection was part of the government involvement in black listing radicals as part of the anti-communist hysteria of the time. Kevin's ASIO file shows he was on a vetting list in 1949. June Englart described how Kevin found a job despite the black list. In early 1952, Kevin found a job listed at the employment office and talked to the dole officer. He was told informally that if he wanted the job he had selected, then not to submit on the dole form that he had applied for the job. June alleged that everytime an Englart applied for work, the employer would be contacted advising them not to employ the person. Vince Englart, Kevin's older brother, has documented on his ASIO file that he was denied a position in the Commonwealth Public Service for political reasons.
Joe Toscano of the Anarchist Media Institute commented in the Anarchist Age Weekly Review Number 413, 14th - 21st August, 2000 on Kevin's ASIO file:
When John Englart received a copy of his father's A.S.I.O files from the National Archives he made a startling discovery. On page 16 of his father Kevin Edward Englart's file 1949-1968 (files can be obtained from the National Archives of Australia if they are older than thirty years), series A6119/90 Item 2599 John Englart came face to face with his own birth notice which appeared in the Sydney Tribune on the 23rd of February 1955.

It seems A.S.I.O has a habit of scanning the birth notices in the Communist Party's Paper The Tribune and using these notices to expand the information base they had on radical activists in this country.

Going through the 32 pages that made up Kevin Edward Englart's file between 1949-1968 I couldn't help thinking how pedestrian and inconsequential the material that A.S.I.O collected during this period was. Thirty years after the information was collected, sections of the file are blacked out (I assume it provides employment for someone in A.S.I.O.)

A.S.I.O records were and continue to be used to deny people employment in this country, that's why most radical activists end up being self employed.

Page 2 of Kevin's record:

'Kevin Edward ENGLART
The above named appears on vetting list Q.614. There is no adverse record concerning this person, but for your information it is advertised that he is a son of Edward Conrad Englart, Communist Secretary of the Brisbane Branch of the Waterside Workers Federation, who is the subject of file BS.2C.57 held in this office.
For (blacked out box)
officer in charge Attorney General's Dept. D. Branch QLD.
14th December 1949.'

A.S.I.O managed to increase this gentle teacher's file to 32 pages by 1968. I'm sure middle Australia slept safe in their beds as a result of A.S.I.O 's vigilance.
A Teaching Career
So in 1952 Kevin Englart started his teaching career at the Church of England Grammar School at Wentworth Falls. In the following two years Kevin attended Sydney Teachers College full time while juggling a young family and a milk run for income. Harold Bains, President of the Retired Teachers Association, remembers meeting Kevin at the Sydney Teachers College:
It was not long before we became close friends as we shared much in common, especially a commitment to the Teachers Federation. The recruitment of students into the Federation was our number one priority. The Trainee financial assistance was very meagre, and it took a good deal of effort to get the students to commit themselves to outlay the small membership fee. However, Kevin was very persistent and most persuasive, and we had quite a lot of success.

After college, because of appointments to distant schools, we did not see one another so much, but our paths crossed many times over the years. To meet Kevin at Federation conferences, and particularly at many peace marches and rallies we attended, was always a pleasure, because he always remained true to those ideals and beliefs that were so dear to both our hearts. Kevin's ideals and dedication were a guiding light to many young teachers over his long and successful teaching career. His colleagues always recognised his basic honesty and humanity.
In 1955 his first public teaching post was at East Hills Boys High School. He went on to teach at:
Canterbury Bankstown Technical College, Belmore Annexe (1956), Granville Technical High (1957-1959), Birong Boys High School (1960-1961), Casino High School (1962-1964), Tweed River High School (1965-1969), Northmead High School (1970-1976), Meadowbank Technical College, Granville Technical College (1977-1985).
The contribution Kevin made to society was considerable. He was a dedicated teacher of mathematics who passed on valuable skills to thousands of students. One of those students, David Howard, remembers Kevin:
I came across Mr Englart in my first year at high school, Tweed River High, when he had the 1A class for maths. At that stage I'm not too sure I was so wrapped in his approach - he seemed to have a thing about geometry and for some reason I failed to get the kicks out of it that he seemed to. None the less he must have had some success with me because I eventually became very good at the subject.

The one specific event that I remember him for was when he was supervising one of the sports I frequented - tennis. I remember getting into a pretty serious fight with some dude. As I recall I broke his arm. Next day I had to front up to Mr Englart. Yes, expecting the cane, or worse, but despite the injuries I had caused he only made me write out my reasons for my actions/assault. As my opponent and I worked through the problem we found we could work it out, and later became very close friends. Mr Englarts' corporal punishment was not required and he seemed happy not to have to provide it. He seemed to know what was appropriate and what was not, even when confronted by a pretty serious situation. Always an even handed approach.

Naturally there are many influences in one's life but at the end of the day I would have to say that Mr Englart had a significant impact on mine. I'm quite certain he had the same effect on many, possibly hundreds, of other young people. I hope the youth of today have as much opportunity through meeting significant mentors as I had. Mr Englart will always be there, watching for mistakes and making me rethink my actions. I'm only glad that those horrible geometry problems no longer plague my conscience.
Retirement
After his retirement from full time teaching he volunteered to assist students at North Lakes High School for several years. In 1997, when the students were doing exams, he was asked to help out with a year seven student. The student couldn't read or write. Kevin read the questions to him and he dictated the answers. In their 1997 End of Year Report, Kevin and June commented "What does the future hold for him and many others like him when the Government schools are starved for funds and the wealthy private schools get lots of extra money."
In his retirement, he moved up to Toukley on the central coast with wife June, where they led an active sporting and social life. Kevin was an Honorary Treasurer of the Toukley & District Cycle Club in 1991, shortly after the club was formed, and campaigned actively for cycling facilities locally. In 1996 Kevin questioned the financial statement of the cycle club. Evidently up to $2,000 was not banked. For his trouble in pursuing transparent accounting for the club, he was suspended for 3 months and given nine months probation where his behaviour was going to be closely monitored. Kevin, never one to take things lying down, wrote to the Secretary asking four "curly" questions about his suspension and probation and was promptly expelled. Kevin and June decided not to bother with a club which could not properly handle members money in a transparent fashion and which treated members criticism with such disdain.
In 1997 Kevin became the Honorary Treasurer of the Extreme Disablement Adjustment (EDA) Association (a war veterans lobby group), a position he efficently filled until his death in May 2000. Kevin was also an active member of Toukley Senior Citizens.
Englart was community minded, always willing to volunteer and help neighbours, friends and strangers. He was a committed humanist, never afraid to argue for social justice and peace in society. He was an active trade unionist, knowing that only with organisation and solidarity can working conditions be maintained and improved.
He will be missed by his family, friends, and his many colleagues in the teaching profession. There will be no funeral, as Kevin left his body to the University of Newcastle Medical School. His family have asked that contributions in his memory may be made to the charity Kevin consistently supported - Stewart House Preventorium (PO Box 21, Harbord 2096), an organisation which assists disadvantaged children in NSW.
John Englart (son)

Related Information:

Contact Takver with questions or comments about this web site.

This Page is linked from: http://www.takver.com
© Takver. All Rights reserved except for nonprofit, union or educational use, please credit source.
Last modified: December 9, 2000