Vince Englart 1923 - 2000
16-10-1923 to 10-10-2000 Social Activist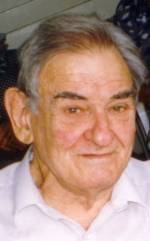 Vince Englart - a 'decrepit old bastard' who's death notice caused a stir.

Vince Englart was a fighter for social justice for over 60 years. Even after death he can still cause a stir. When Englart's family attempted to place a death notice with the Brisbane Courier Mail newspaper (part of the Rupert Murdoch News Limited empire), it was rejected. Even the Funeral director was shocked that a family term of endearment, "the decrepit old bastard", was rejected for publication.

But to those who know Englart's story, censorship of his Death notice comes at the end of a long life of blacklisting and discrimination. For Englart was for sixty years a model communist and social activist.
Political Blacklisting
In the middle of the Cold War political climate of the 1950s and 60s, despite his exemplary war service background and efforts as a willing worker, Englart couldn't hold a job. It is difficult to say that sackings were due to company blacklists, government policy or because of the intervention of the State Security Police or Australian Security Intelligence Organisation (ASIO), but documents held by the National Archives clearly show political discrimination.
Like his younger brother Kevin, Englart applied to the Queensland Education Department with better than the minimum requirements for training as a Science teacher under an emergency teacher recruitment program. He was rejected with a note on his file "Never to be employed".
In 1965 Englart sat for and comfortably passed an examination for the position as a Third Division Clerk in the Federal Public Service. He was advised that he had passed and that he would be notified when a position was available (at a time of a serious shortage of clerks at that level). Notification never came, but National Archive files indicate ten letters on ASIO's assessment of Englart as an 'employment' and 'personal' risk. On 14th March 1966, there is a copy of a letter from the Public Service Board agreeing "that the appointment of Mr. Englart as Clerk should not proceed". It was addressed to the Director-General of ASIO. It Is apparent that Englart's 'crimes' were not criminal, but that he was active in the work of a legal political party, the Communist Party of Australia.
Desperate for work to support his young family, Englart was happy to be employed in any position. During the 1960's and the 1970's he worked as a builders' labourer, while struggling to pay a War Service loan on his Red Hill house. In 1963 and 1964 he stood for Local Council and Queensland Parliament as a communist.
Before Englart died he applied for and received his ASIO file from National Archives. Vince comments: "My family appreciated the ASIO informer who attended a FOSU (Friends of the Soviet Union) public concert of many acts during which two of my sons (8 and 10 years of age) performed some conjuring tricks. The informer thoroughly enjoyed the show but inquired about the identity of the young performer. It led ASIO to establish a file on my ten year old son!"
A working class family
Vincent James Englart was born at Graham Street, South Brisbane, on the 16 October, 1923, to working class parents, Ted and Kate Englart. His father was a wharf labourer, and a prominent Queensland communist, who was Secretary of the Waterside Workers Federation, Brisbane Branch, during the 1940's. Although an exceptional student at school, his family could not afford education past primary level. At fifteen, Englart joined the workforce.
At sixteen he was a member of the Communist Party of Australia (CPA) when it was banned by the Menzies Government in June, 1940. He was home when the Englart house was raided by the Federal police looking for arms: they found communist and religious books and pamphlets. He immediately became a courier for the CPA, carrying documents from a centre to various secret posts. From June 1941, he became active in the Friends of the Soviet Union (FOSU), publicly selling literature and establishing an illegal CPA Party branch at his workplace in Woolloongabba.
In 1942 Englart was a founding member of the Eureka Youth League (EYL) and gave support for over twenty years. In December, 1942, the ban on the Communist Party was lifted, and Englart joined the Australian Army, saw service in the 8th Australian Field Company, RAE, in New Guinea. He was transferred to the Australian Army Education Service (AAES) where he was promoted to the rank of Sergeant.
After demobilisation from the Army in 1946, he attended Queensland University during 1948 to 1950, and took part in the great demonstrations in support of the Queensland Railway Workers strike in 1948, and the national Miners' strike in 1949. Englart was arrested twice by the police while selling the Communist Party newspapers, the Guardian and the Tribune in the streets of Brisbane and Toowoomba during this period.
The Menzies Government was elected in December, 1949, and it planned to ban the Communist Party. Englart became part of a shadow, necessarily conspiratorial body, parallel to the legal CPA organisation to meet the threat of the ban on the legal status. In June, 1951, one month after marriage to Shirley Millar, Englart and his wife were sent by the CPA to an International Communist Party school in China. Originally the school was for six months but the politics of the cold war resulted in a three and a half year absence. Upon his return in early 1955, the CPA employed Englart for two years as editor of the Queensland pages of the national communist newspaper, Tribune, then as an organiser for the Brisbane District.
Many social movements
"We must correct others, even if not rewarded, because of a natural revulsion at people doing wrong; especially when it involves a public good. Besides, who hasn't made mistakes?"
Vince Englart

Keith Brooks (left), Ted Englart (Vince's father) and Vince Englart (right) at the Sundial - 1982
Englart was active in many social movements: opposition to the Vietnam War, opposition to the discriminatory racial policies such as the assimilation and integration of the aboriginal people; demonstrating on the Newstead Wharf against the first shipment of Uranium ore (yellow cake) to leave Australia; and struggles against Apartheid in South Africa. When the Springboks toured in 1971, Vince and his family were opposite the Tower Mill Motel when Police Commissioner Ray Whitrod gave the Order to police to clear the demonstrators from the area.
During the period of the Bjelke-Petersen Government Englart was prosecuted under State law for the sale of 'The Little Red School Book' and the novel, 'Portnoy's Complaint', through the Peoples Bookshop of which he was part owner. He also took part in the "Right to March" campaign against government restrictions on the public opposition to various restrictive laws. He narrowly escaped injury when the Communist Party building in Fortitude Valley was bombed by the Australian Nazi Party in 1970.
Parable of the sundial
Englart worked as a builders' labourer until his retirement on a Veterans' Affairs pension at age 60. One of his last jobs was building the giant sundial at the Brisbane planetarium. Using his self taught mathematical skills Englart identified major errors with the sundial plans provided by the contract architect. This saved the Brisbane City Council thousands of dollars and he was the hero of the job. The Planetarium Curator, Jeff Ryder, after nearly twenty years, fondly remembers the contribution of Vince Englart. Many workers would perhaps have stayed silent after noticing a problem, but Vince said: "We must correct others, even if not rewarded, because of a natural revulsion at people doing wrong; especially when it involves a public good. Besides, who hasn't made mistakes?"
At Uncle Vince's wake tributes were made by catholics and communists, by Australian Democrats Senator Andrew Bartlett and workmates, but most of all by his family. At his death Vince Englart was a member of the Australian Democrats and subscribed to some 60 organisations or newsletters. All who knew him will miss his passion for debate and knowledge and his concern for humanity. The loss will be felt especially by his family: ex-wife Shirley Millar, sons Rod, Steven, Brett and their families, and his surviving brother Leo and sisters Imelda and Betty, and the extended Englart family.
John Englart (nephew)

Related Information:
References - Material by Vince Englart:

Contact Takver with questions or comments about this web site.

This Page is linked from: http://www.takver.com
© Takver. All Rights reserved except for nonprofit, union or educational use, please credit source.
Last modified: December 9, 2000