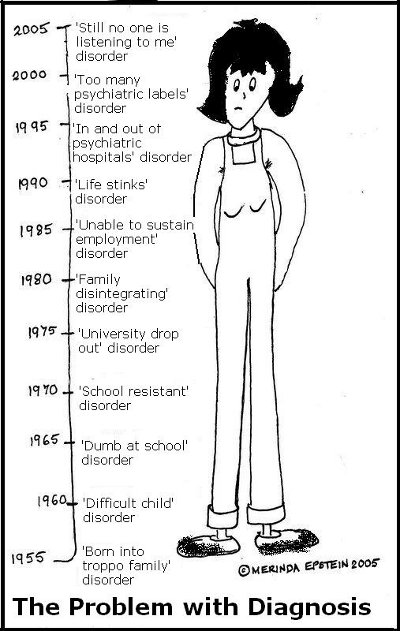 Merinda Epstein has a Diploma in Teaching and a Bachelor Degree in Education from Melbourne University. For a time she was a lecturer in education at Deakin University. She has experience as a teacher of disadvantaged children, and in consumer evaluation/research and policy in mental health. She assists research, evaluation and policy development, using interviewing, innovative experiential and interactive dialogue and participant story-telling.
In 2004 Merinda was the joint recipient of a Human Rights Award from the Human Rights and Equal Opportunity Commission (HREOC).
To the Parliament of Australia 2005 Senate Select Committee on Mental Health she described her roles as:
Victorian Sate Representative on the National Mental Health Consumer Network (ANMHCN)
Member representing mental health on the Consumer Advisory Committee of the Australian Council for Safety and Quality in Health Care (ACSQHC)
2004 winner of the Australian Human Rights Award (HREOC) for 15 years contribution to the lives of people living with mental illness in Australia
1994 – 1998 Independent Consumer member of the National Community Advisory Group on mental health (NCAG).
Policy Officer for the Victorian Mental Health Legal Centre;
Member of the Victorian Mental Illness Awareness Council (VMIAC); and
Consumer representative on the Australian Health Ministers Advisory Committee for the evaluation of the First National mental Health Strategy.
From 1994 to 1997 she was working on the Understanding & Involvement project which was a three year consumer evaluation of acute psychiatric hospital practice. This project pioneered constructivist or fourth generation evaluation methodology in the mental health field. The U&I project partners won an Australian National THEMHS Gold Award for Partnerships in 1995. It went on to win the 1996 Caulley-Tulloch prize for innovation given by the Australasian Evaluation Society.
Merinda is an active member of the Action Research Issues Centre in Melbourne.


Merinda accepting the Human Rights Award in Sydney
The citation for the 2004 Human Rights award said:

"Merinda Epstein has been actively involved in mental health politics for 15 years. She is recognised as one of Australia's leading mental health consumer advocates and internationally recognised for her contribution to mental health service development. Ms Epstein was recognised by the judges for her determination, bravery, moral integrity and insight in ensuring that the rights of people with psychiatric disabilities are defended.

The judges particularly admired the fact that Merinda, as quoted by one of her nominators, "can sniff out injustice much as a beagle find contraband at the airport" and the fact that "Merinda is notoriously bad with money, as she gives away to those in needs and forgets to budget to keep any money for herself".