Wharf 'reform': we're paying

18 April 1998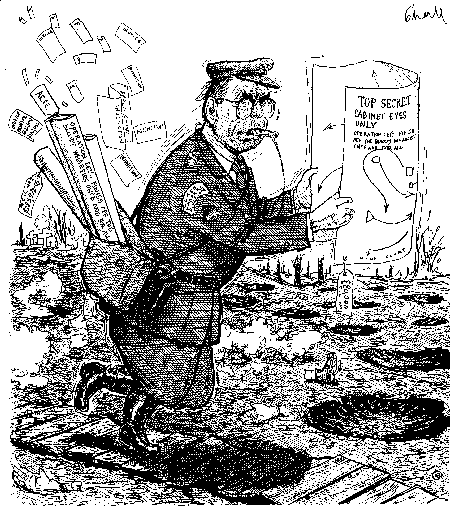 JOHN Howard got a bit niggled two days ago. Asked on Cairns radio in North Queensland if, historically, "confrontationist policies" weren't "a dangerous path electorally", and that maybe what was happening on the nation's wharves was getting out of hand, the Prime Minister reacted sharply. "There's nothing confrontationist about it," he snapped. "Look, turn on your television set. Who's confronting who? The Government is not confronting wharfies. All we have sought to do is change the law to allow a more productive waterfront to emerge."
He was pretending, of course.
The script says he must. While nobody believes the Government was ever an innocent bystander in the Machiavellian conniving that went on in ministerial offices and corporate boardrooms for a full two years to orchestrate a game plan that would break the back of the Australian Maritime Union (MUA), Howard's job now is to keep public opinion anaesthetised to the detail of his Government's deep involvement in setting the waterfront alight.
Keeping it simple is the communications strategy. Keep the focus on the pejorative: "rorting" and "lazy" wharfies, "union bosses", "union bullies", "a fair day's work for a fair day's pay", "un-Australian" wharf violence, and, of course, "the public interest". As Howard told his Cairns radio audience: "You've got to make up your mind what is right. I made up my mind long ago. I've heard heart-breaking stories of farmers and small business men and women sent broke, having to sack people because of the behaviour on the wharves."
The Prime Minister has a hundred such lines.
And Jonathon Gaul, the Canberra lobbyist who has worked in every Liberal Party Federal election campaign of the last 20 to 25 years, probably wrote them all. It was Gaul who, in September last year, was commissioned as a "consultant" to prepare a communications strategy covering "waterfront reform". His report has never been released.
But then, neither have several such reports, despite repeated attempts by the Senate to force their disclosure. Twice, last October 23 and November 25, the Government refused, claiming "public interest immunity". Said Communications Minister Richard Alston piously at the time: "Reform on the waterfront must be realised for the benefit for all Australians. We will not allow this objective to be placed in jeopardy by the premature release of documents which are inputs to our deliberative processes."
It is the known detail of these "deliberative processes" that should be kept in mind as the Prime Minister goes about the country washing his hands of the escalating violence by insisting all his Government has done is "have the guts to change the law, to put the public interest first" so that "lawful enterprises" can go about their "lawful activity" to the "benefit of all Australians".
The reality is very different.
In the two years since the Coalition came to office, it has spent more than S900,000 of public money paying 11 consultants commissioned for a single project: a comprehensive scheme to destroy the MUA'S monopoly over waterfront labour. Three key consultants came from the Liberal Party's political network and worked directly to two Cabinet ministers: Peter Reith (Workplace Relations) and, before his dramatic fall from grace last year, John Sharp (Transport). The three consultants in turn subcontracted eight other consultants.
The first to come aboard was Paul Houlihan, a former industrial relations strategist with the National Farmers' Federation (NFF). Now a Sydney political consultant, Houlihan was paid $20,000 for six weeks in March/April 1996 as a member of Reith's taskforce drafting the new Government's Workplace Relations Act.
On May 15 that year, Houlihan and David Trebeck, a former deputy director of the NFF and, later, policy co-ordinator at Liberal Party headquarters in the mid-1980s, got a $60,000 consultancy from Sharp to write a report on "industrial relations strategy for the implementation of waterfront reform". The fee was subsequently increased to $80,000 and their report, known as ACIL I, after Trebeck's Canberra consultancy firm, ACIL Australia, was completed in September 1996. ACIL I was never made public on the grounds of "Cabinet-in-confidence". The following year, on June 20, Sharp and Reith commissioned a second report from Trebeck's ACIL consultancy "on further options for waterfront reform". It had an October deadline and, at a rate of $1,500 a day to Trebeck as principal consultant, was capped at $600,000. His subsequent report, ACIL 2, was finalised on October 31. Answers given to Labor's Senator Kerry O'Brien at an estimates hearing last November disclosed Trebeck's total fee, at that stage, to have been $283,972 - and 5c. The joint cost of ACIL I and 2: $410,000.
Trebeck subcontracted two other consultants: Mark Textor's polling organisation, Australasian Research Strategies, and Jonathon Gaul's Canberra Liaison. Textor, like Gaul, has a long association with the Liberal Party in countless election campaigns. In the Trebeck consultancy, Textor was paid $42,000 for market research on voter attitudes to "the MUA and waterfront practices", while Gaul's fee for a political "communications strategy" was set at $200 an hour. By mid-November Gaul had not presented his bill. The Government, again, refused to make their reports public.
While David Trebeck was working on ACIL 2, John Sharp in July last year commissioned yet another report from Dr Stephen Webster, a business consultant previously an executive with Melbourne businessman Dick Pratt's Pratt Industries and who once worked as a policy adviser to Andrew Peacock and the former Tasmanian Premier, Robin Gray.
Webster's brief, as outlined in November to Senate estimates, was "to lead a project team in providing advice to the Government in achieving effective and durable waterfront reform". Webster, as the principal consultant, subcontracted six other consultants: Dr John Davies, described as having had "a close working relationship" with Webster in consultancies with Pratt Industries; two leading law firms, Minter Ellison and Corrs Chambers Westgarth; Mr David Webb; BUG Media; and the National Institute of Labor Studies.
The Webster report was completed by October 3. It- cost taxpayers $491,689.
A breakdown to Senate estimates itemised this as: $95,254 and 42 cents to Webster, at a rate of $1,000 a day plus "travel and incidentals"; $96,376 and 88 cents to Davies; $162,000 to Minter Ellison; $89,956 and 28c to Cons Chambers Westgarth; $23,871 to David Webb; $15,375 to the National Institute of Labour Studies; and $8,857 and 3c to BGC Media.
The interlinking of evolving events and individuals stretches beyond the Government consultancies. Paul Houlihan, the ACIL 1 co-author and former NFF deputy director who was a key figure in the infamous Mudginberri dispute 13 years ago, where NFF money and political will crushed the meatworkers' union after a brutal stand-off lasting four months, is now a director of the three NFF wharf companies set up at Melbourne's Webb dock in January - the corporate play that triggered the escalating industrial and legal battle engulfing the whole of the Australian waterfront in an exact parallel of Mudginberri.
One of the three NFF companies is P and C Stevedores Pty Ltd. At a Senate hearing of supplementary estimates on February 27, Labor's Senator O'Brien sought assurances that one of the Webster sub-consultancies, Minter Ellison, "has not used any information gained by working for the Government in work for other clients".
In a written reply, Minter Ellison responded on March 17: "This consultancy [with the Commonwealth] was performed by lawyers in the Brisbane office of the firm. Subsequent to the conclusion of the work under the consultancy agreement, Minter Ellison's Melbourne office has provided legal services to the companies associated with P and C Stevedores Pty Ltd. It is acting for PC's Operations Pty Ltd, and its three directors, in proceedings brought by the MUA against those defendants and several other defendants. The work is being done in the Melbourne office of Minter Ellison. The Brisbane office has not been involved in any way in providing advice to any of the companies in the PCS group.
"Minter Ellison has not used any confidential information gained in per- forming the consultancy in work for other clients. Nor has any conflict of interest with the interests of the Commonwealth arisen. Minter Ellison gives that guarantee to the [Senate] committee."
All of this, of course, is simply part of the background.
It is a background, however, with its intertwining web of political and corporate players, not generally known or understood by the general public. So when the Prime Minister - as he did yesterday, this time on Melbourne radio - seeks to set the blame for all that is happening at the door of "union bosses", just remember how assiduous his Government has been in spending your money getting the various pieces of his "reform" jigsaw in place.
Nor is it any comfort knowing he believes a good old stoush so divisive industrially and politically isn't such a bad thing. Asked by radio 3AW's Neil Mitchell, "Do you agree we've got a divided country now?", Howard replied: "Well, it is part and parcel of solving challenges to our economic future. I mean, this idea we will never do anything through fear of upsetting somebody, that is a remedy for seeing the country go down the drain"
We shall see
---
Engineering a dockside revolution
IN the various claims and counter-claims of who is doing what to whom to close down the Australian waterfront, and widening sections of the workforce with it, a single, unchallenged document suggests John Howard's Government cold-bloodedly set about a deliberate strategy more than a year ago to incite the very outcome that now so divides the community.
It is a departmental minute, dated March 10, 1997, written to Peter Reith, the Minister for Workplace Relations, by one of his senior officers. Its existence was first disclosed by Pamela Williams of The Australian Financial Review last December. It was raised by the Opposition in Parliament last week, but was evaded or glossed over by ministers as thoroughly as it has been all but ignored by the media amid the turmoil of more immediate events.
It deserves wider attention.
The minute runs to four pages. It was written by Derren Gillespie, an assistant secretary in a section of Reith's department identified as its "industry policy team". Its purpose was to brief Reith on a meeting he was to have in Sydney two days later with executives of Australia's two major stevedoring companies, Patrick and P&O Ports. A copy of the signed minute says in part: "Your office was provided, on 27 February 1997, with a copy of the waterfront paper prepared by officials. The paper referred to two options for advancing waterfront reform. It was intended the paper, together with the views of members of your personal staff, would provide the foundation of a common position between yourself and (then Transport Minister John Sharp] which was then to be taken up with the Prime Minister. Your discussions with P&O Ports and Patrick provide an opportunity to indicate the development of the Government's thinking . . .
"At this stage, the views expressed by (the two companies] indicate they have not identified specific objectives for change, and have neither spelt out nor tested the specific steps by which any particular objective might be achieved.
"For example, both stevedores appear to 'have it in mind that they might achieve wholesale change of their respective work forces. Our discussions with them, however, do not suggest they have given careful consideration to how this might be achieved, or to the means by which responses to such a step might be managed...
"Another matter that might be canvassed is the proposition that a dispute, of itself, would produce desired change on the waterfront. This proposition would seem to have gained some currency among various parties. As the strategy paper noted, a dispute would not, of itself, remove or alter MUA coverage, remove or suspend registration, or cancel the award or terminate any agreement, although it could provide the basis for taking action to (achiever fine or more of those ends.
"What would be needed for the MUA'S influence to be significantly weakened would be for a range of affected service users and providers to take decisive action to protect their interests. Stevedore [companies] would need to activate well-prepared strategies to dismiss their workforce and replace them with another, quickly, in a way that limited the prospect of, for example, the commission ordering reinstatement. (Action by service users to protect their interests] could have the effect of changing the MUA'S behaviour and/or inflicting some financial pain through damages. The significant cost of national waterfront action needs to be borne in mind ... Attachment B sets out some suggested questions. Attachment C deals with the termination of a workforce. You might draw on this to explore the level of consideration which the [two companies] have given to this matter. . ."