Woolwich Dry Dock in 1900 and 1908
Excavation for dry dock at Woolwich, c.1900.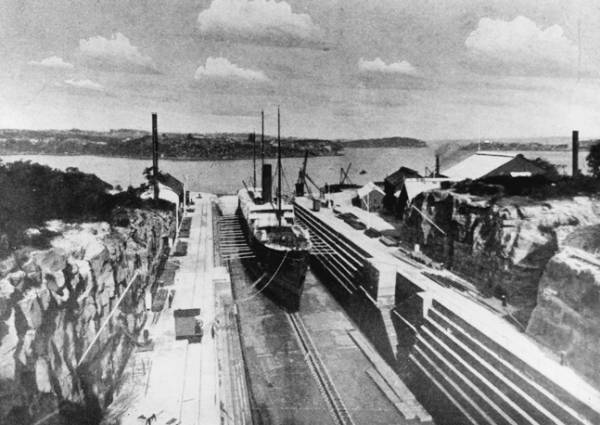 Vessel in dry dock at Woolwich, c.1908.

More Information:
Morts Dock and Engineering Company, which operated a successful dock at Balmain, purchased the site in 1898. A local company, W. Solomon & Sons excavated 85,000 cubic metres of sandstone to construct the new dry dock. When it opened in December 1901 Woolwich Dock was the largest in Australia, 188 metres long and 27 metres wide. A pumphouse was brought out in parts from England to operate the dock.

Morts used the Atlas workshops, moved the boiler shop, established a foundry and built several jetties. The dock was lengthened over the years to its present 260 metres. In the 1940s the Atlas workshops were replaced by the sawtooth roofed building and several brick buildings were added.

For more than 50 years, ships from around the world were repaired and fitted-out in Woolwich Dock. The busiest times were during the two world wars when many passenger vessels were converted to armed troopships and repairs were carried out on damaged ships. In 1917 the company employed 1,500 people. The entrance road was named after Managing Director of Woolwich Dock, James Peter Franki.

After the Second World War new work declined and the company closed down in 1958.
From the Harbour Trust website on Woolwich Dock and parklands at
http://www.harbourtrust.gov.au/topics/sites_woolwich.html
My Union Right or Wrong.
A history of the Ship Painters and Dockers Union 1900-1932
By Issy Wyner
2003




Navigation