Lawyers Against war protest in Melbourne
27 March 2003


Melbourne lawyers and legal workers rallied outside the Supreme Court of Victoria against a war they declared to be illegal and immoral. The crowwd overflowed onto William street blocking traffic.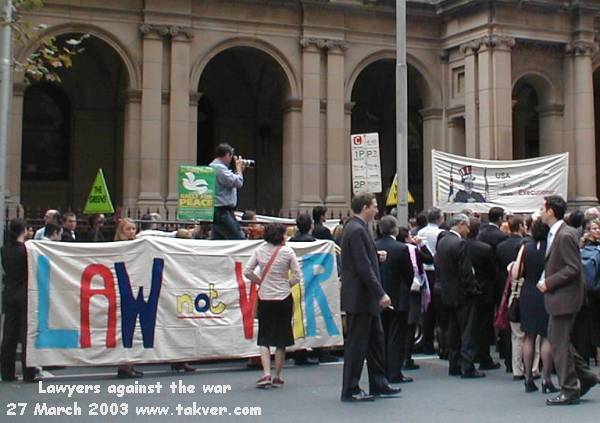 Legal proffessionals gather outside the Supreme Court
Thursday 27 March
Melbourne Lawyers and legal workers rally against war
Several hundred Lawyers and legal workers rallied outside the Supreme Court of Victoria on Thursday in opposition to the war on Iraq. A number of speakers emphasised that this war is immoral, illegal and contrary to international law.
Melbourne University international law Professor Gillian Triggs said the only legal justification for war is self-defence or the support of the United Nations.
"I've read with as much objectivity as I can manage the 17 Security Council resolutions since 1990 and I can honestly say that there is no authorisation for the unilateral use of force in the absence of a further Security Council resolution," she said, according to the ABC online report.
Other speakers pointed out the need for the legal community to defend protestors such as those in Sydney who were arrested yesterday.
People overflowed the footpath and blocked traffic on William street outside the Supreme Court from 1.15pm till shortly after 2pm when the rally ended. There were no arrests!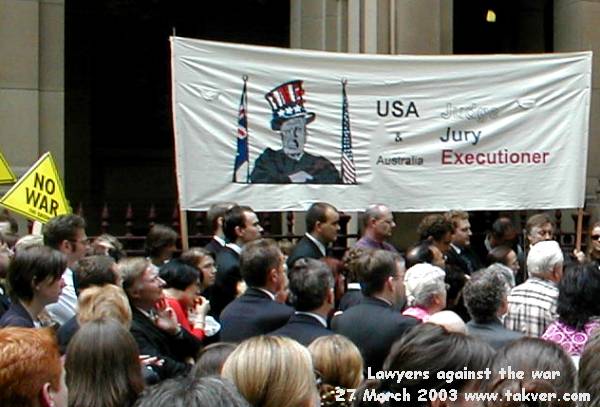 Australia & USA: Judge Jury and Executioner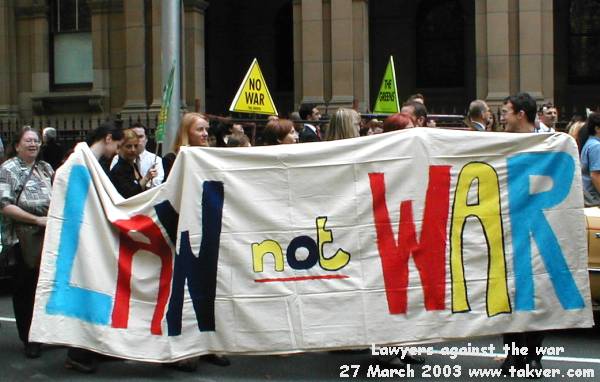 Law Not War banner

Panorama Photo showing crowd
Other Relevant Links:
Takver's Soapbox

Contact Takver with information for, questions, or comments about this web site.
© Takver. All Rights reserved except for nonprofit, union or educational use, please credit source.
Print Publications seeking to publish any of these photos should contact Takver to obtain a high resolution version and permission to publish.
This Page is: http://www.takver.com/history/melb/peace2003/peace270303.htm