Parents and kids protest for peace in Melbourne
23 March 2003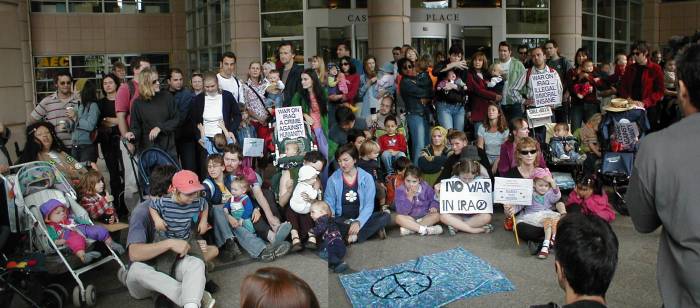 Parents, babies and toddlers at the Casselden Place Government Offices
11.00am, Sunday morning, 23rd March, Victorian babies and their families came to Casselden Place in Melbourne to add their voices to anti war protests. About 150 people pushing prams or holding babies listened to several speeches and joined in finger-painting. One group of women, dressed dramatically in red, held 'Vagina Monolouge for peace' placards.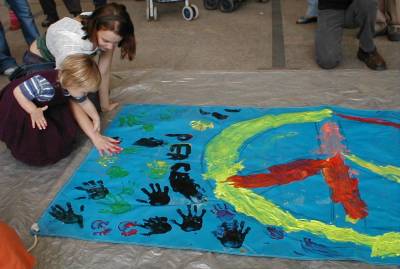 Kids painting a banner for peace
Speakers included young Daniel who spoke about kids need for peace. Professor Lew Irving from the Medical Association for the Prevention of War talked about the terrible impact on the health of children and babies of continuing conflict in Iraq. One town near the border has not had one live birth in three years. One in five children born in Iraq have congenital health problems. Pamela Curr from the Greens highlighted the terrible cost of war and urged people to continue their opposition to the conflict.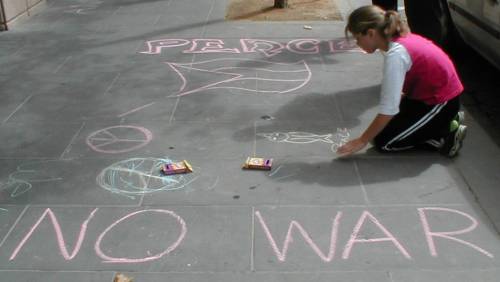 Kids used chalk in a protest for peace on the pavement
After the speakers children finger-painted a banner for peace. Others chalked slogans: 'Iraq is bleeding'; 'Peace is a better investment'; 'No War'; 'Welfare not Warfare', and 'Fight Terrorism with Social Justice' on the pavement.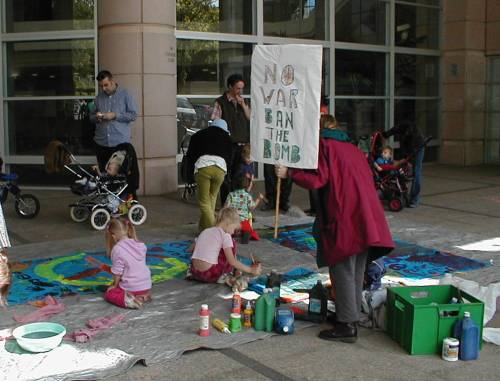 Kids painting a peace banner
The parting words were a reminder of the rally on Saturday 29 March at 1pm outside the State Library.
Other Relevant Links:
Takver's Soapbox

Contact Takver with information for, questions, or comments about this web site.
© Takver. All Rights reserved except for nonprofit, union or educational use, please credit source.
Print Publications seeking to publish any of these photos should contact Takver to obtain a high resolution version and permission to publish.
This Page is: http://www.takver.com/history/melb/peace2003/peace230303.htm