Up to 50,000 protest in Melbourne at 5pm
after the missiles started landing
20 March 2003


Some of the crowd outside the State Library
With less than 2 - 3 hours notice 20,000 - 50,000 people gathered in Melbourne and marched against the war and to bring Australian troops home.
The Victorian Peace Network (Vicpeace) and the Victorian Trades Hall Council (VTHC) had both put out posters advising people to protest the start of the invasion by congegating at the State Library at 5pm on the day.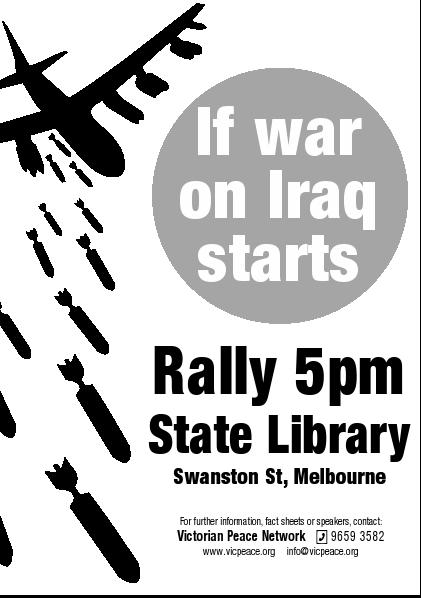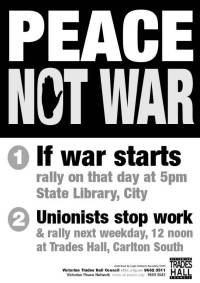 Vicpeace and VTHC posters
Dear John Howard,
People are hopping mad. Your act of committing Australia to participation in a war of aggression against Iraq is unprecedented in Australian history. It has set back foreign policy in our relationships to Asia at least 30 years. It has openned up the possibility for justifiable acts of retaliatory warfare in Australia against Australians.
Parts of Swanston Street and St Kilda road were blocked from between 5pm and 9pm, causing significant traffic delays. But then what's a short delay when our Government is participating in bombing the shit out of people who have done nothing to harm us.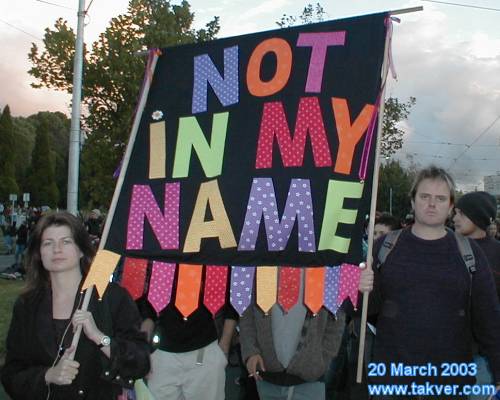 Not in My Name Banner
We heard a simulated air raid siren this afternoon. In Baghdad they had 40 cruise missiles rain down upon their city. There will be many more to follow I'm sure. How many people will die from these we may never find out because of the threats to target independent media who stay in Baghdad. How would you feel if someone was sending missiles aimed at Kirribili house; at your wife and children? About 53 percent of Iraqis are under 15 - they are mostly children. How do you live with yourself that your actions will mean the death of many innocent Iraqi children? Is regime change really worth the cost of perhaps several hundred thousand people dead? Had we exhausted every conceivable alternative before war? I think not.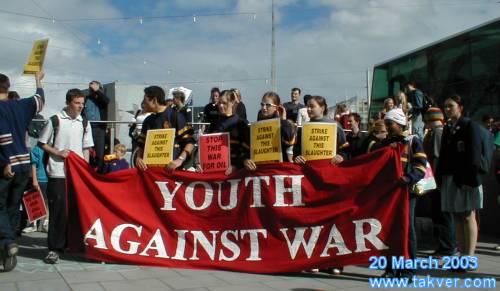 Students are back protesting, John, as Youth Against War
Deakin High Students and their banner
Today I saw a couple of hundred students gather in Federation Square. As they marched up Swanston, people literally stepped off the side walk and joined the march. It stopped for a few minutes in Bourke Street and seemed to noticeably swell in numbers. By the time it reached the State Library it was several thousand strong. However, the road outside the State Library was full as was the grassed area and Library Forecourt.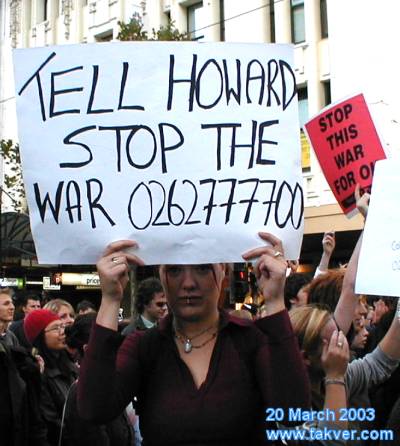 This students wants people to ring you John on 02 627 77700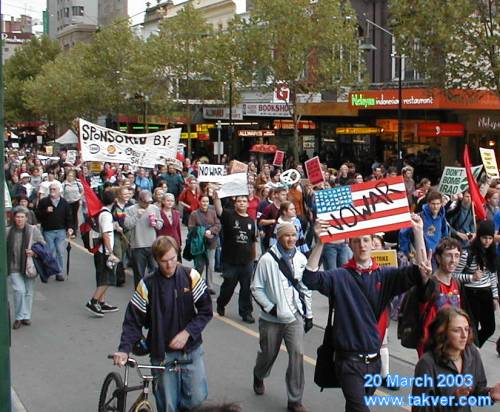 Some of the students marching up Swanston st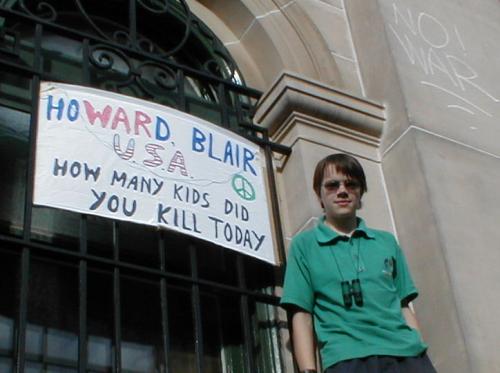 How many kids did you kill today, John?
You may take some comfort that it was perhaps only a quarter the size of the demonstration of 200,000 people on February 14. Don't. This protest was organised with just a few hours notice. It is the tip of the iceberg. That Iceberg is coming to kick you out of the lodge and Kirribili House. It may take a while, as Ice Bergs move slowly, but take it from me it is coming.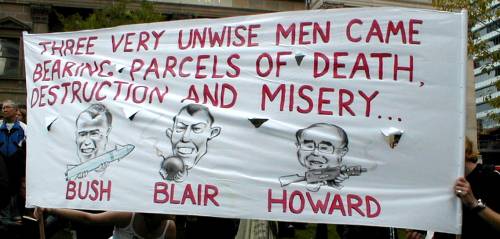 I couldn't resist this caricature of you, Tony & George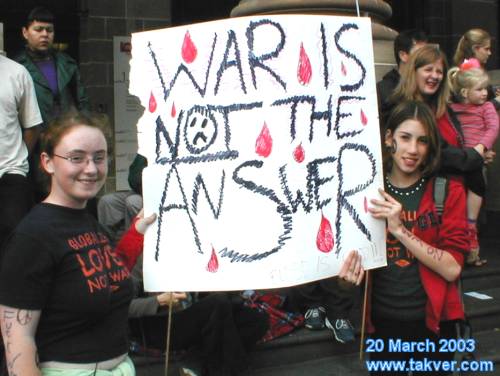 Students today are so sensible, pity you don't have their commonsense
People marched down from the State Library to Victoria Barracks. 20,000 is probably a conservative estimate from the organisers at the time. From the photos my son took by climbing various vantage points I guessed at 30,000 may have been there. And David Spratt from vicpeace has estimated 50,000 people were there. It did stretch for several blocks, and they were pretty tightly packed in there. Whatever the number, it was an amazing congregation to achieve on the streets in a little over two hours.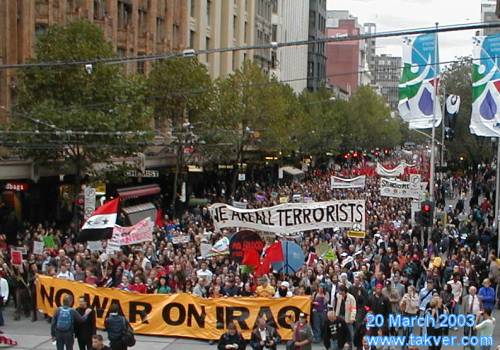 Thousands marched down Swanston St, here at Collins St.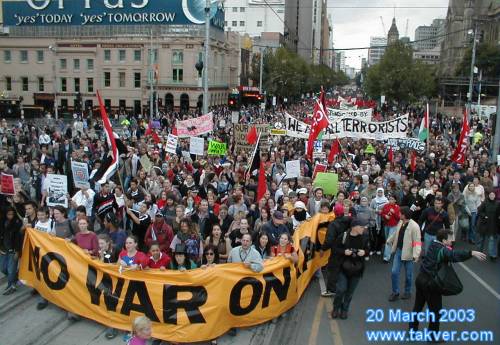 Thousands marched past Flinders St Station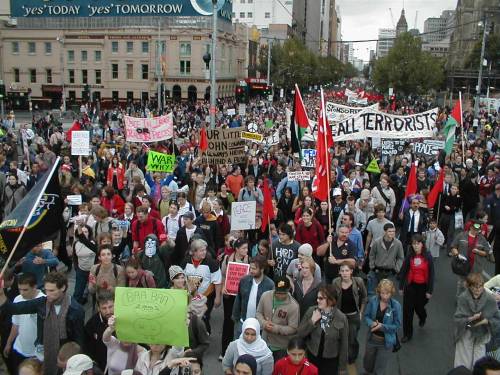 I hope they are marching in your dreams too

A panorama outside Victoria Barracks.
There are people behind the photographer too.
I'd worry John. This peace movement is a cross section of society. Churchgoers, trade unionists, businessmen, students and mothers with toddlers are part of this movement. Even Vietnam and Gulf War veterans are marching with us. Even our own troops on active duty are having second thoughts about the morality and rationality of this war.
Bring them home John. Demonstrate some courage. Support our troops the best way possible and bring them home to their loved ones before they get killed, injured, or inhale the depleted uranium particles used in US munitions. Make sure your Veterans Affairs Minister authorises proper long term medical studies and our vets get adequate compensation. They will need it.
After Victoria Barracks a few hundred people went on to the US Consulate at 553 St Kilda Road. More speeches and music. Even a group having a picnic dinner. By 9.30pm the numbers had dwindled to about 20, but these people are determined to stay and keep vigil outside the consulate. While I was outside an american from New York came up and spoke to me. He said he was ashamed. Ashamed of his country going to war when there is no perceived threat. He was truly frightened with the present Bush political administration. Don't necessarily believe the polls in America, many many people oppose Bush and oppose this war!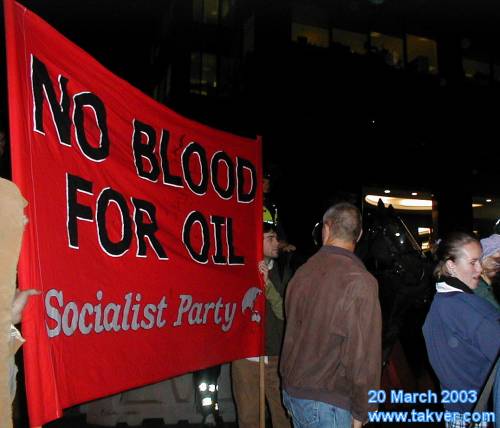 The Socialists were there outside the consulate.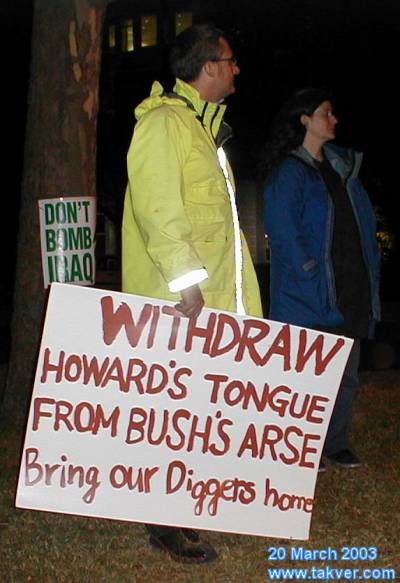 And some who dared describe your relationship to George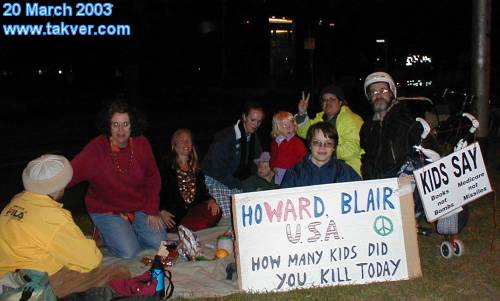 and some who held a picnic with their children outside the consulate.
Tomorrow even greater numbers of people will gather and march in Melbourne. They will gather at noon outside the Trades Hall, corner Victoria and Lygon Streets, Carlton. I hope your watching, John.
So, John, that's the view from the streets of Melbourne this afternoon. I hope you sleep well tonight!
Takver's Soapbox

Contact Takver with information for, questions, or comments about this web site.
© Takver. All Rights reserved except for nonprofit, union or educational use, please credit source.
Print Publications seeking to publish any of these photos should contact Takver to obtain a high resolution version and permission to publish.
This Page is: http://www.takver.com/history/melb/peace2003/peace200303.htm