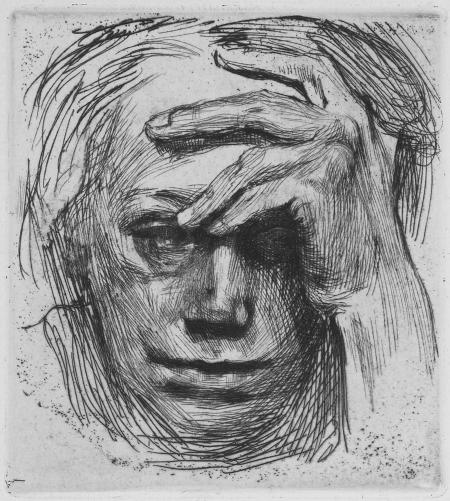 Self-portrait with Hand on Brow, etching, 1910 by Käthe Kollwitz

Käthe Schmidt was born in the industrial seaport of Königsberg, in the German annexed territories known as East Prussia, where her father was a member of the officially disapproved Social Democratic Party, and her maternal grandfather was a preacher in the radical Latitudinarian Community he founded there.
After art studies there, and further in Berlin and Munich, in 1890 Käthe married with Karl Kollwitz, a former medical student of her home-town, who after graduation had set up as a member of a subscription medical practice in the poorest part of Berlin. Here they spent the best part of their lives, in Käthe's case including the entire Nazi era-until driven out by the large-scale bombing of the city.